Tidelands Division
The Tidelands Division is the traditional part of Tacoma Rail, founded in 1914 as a streetcar line operated by the City of Tacoma. In the past, it was known generally as the Tacoma Municipal Belt Line and locally as "the Muni."
The Tidelands Division has been freight only since 1937. The nature of the Tidelands business has evolved along with the industry, from lumber and shipbuilding, to chemicals and metals, then containers and general industry.
The Tidelands division serves all four intermodal terminals within the Port of Tacoma:
North Intermodal Yard
Pierce County Terminal
South Intermodal Yard
Washington United Terminals
We also serve the Port's break bulk facilities.
In addition to the Port's facilities, we switch 40 industrial customers, handling commodities such as automobiles, food, forest and building products, metals, minerals and petroleum products.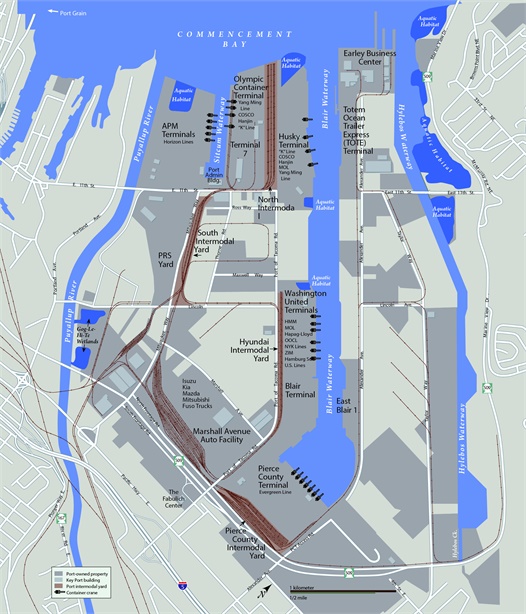 Rate & Routing Information
Alpha Code: TMBL
Numeric Code: 759
Carrier Type: Switch carrier for both BNSF and UP
Junction: Tacoma
TMBL's rates are generally absorbed by the linehaul carriers (BNSF and UP) subject to the switch absorption provisions of the rate governing the linehaul movement. All governing provisions and switching charges for the Tidelands division are contained in the TMBL 8807 tariff series, subject to fuel surcharge.
Demurrage charges and rules are contained in the TMBL 6004 tariff series. TMBL employs a credit/debit system for demurrage.